Festival Tour - Fort Lauderdale
ARTISTS FOR CONSERVATION:

SAVING NATURE ONE BRUSHSTROKE AT A TIME
Presented by BBX Capital Foundation & Nova Southeastern University


Dates: May 17 - June 16, 2014
Hours: Open during regular hours for Alvin Sherman Library. Visit the website for details.
Admission: Free
Location: Alvin Sherman Library Gallery at Nova Southeastern University, 3100 Ray Ferrero Jr. Blvd. Fort Lauderdale - Davie, Florida 33314-7796 | Getting there
Mark your calendars and join us in South Florida this May 17th - June 16th. With the support of BBX Capital Foundation and Nova Southeastern University, AFC is excited to establish a new world-class art exhibit and international cultural event in Fort Lauderdale. This new pilot event, will feature AFC's annual tour plus a selection of artwork by artists from AFC's Marine Explorer's Program. The inaugural event, hosted at the Alvin Sherman Library Gallery at NSU will feature a sampling of AFC's art and environmental education programming for youth and adults, lectures and films, with plans underway for a full-scale event in 2015.
The AFC exhibit is the world's top conservation-themed art exhibit and sale and provides a special opportunity to buy some of the latest original paintings and sculptures by masters around the world. The touring exhibit will feature approximately 55 original artworks for sale by 37 leading nature and wildlife artists from around the world. Enjoy worldwide artistic excellence, learn about conservation issues, and directly support conservation work through the purchase of artwork.
40% of artwork sales proceeds support conservation and education.

Each piece of art on display does more than tell a story. It disseminates an important message about wildlife and what needs to be done to conserve our natural resources for our children and grandchildren to enjoy.
It's also an opportunity for the public, teachers and students to meet and mingle with top international artists. All artwork sales benefit wildlife conservation. Opening weekend activities feature a Meet-the-Artists reception, book signing, hosted film screenings with AFC President and Founder, Jeff Whiting, lectures by leading artists and youth workshop.
Artists for Conservation aims to establish the event as the premiere signature art event in Broward County, if not all of South Florida.
Supporting this Event

Bringing Artists for Conservation to Broward County is an opportunity to share artists passion for art and our environment. With budgets for art education suffering, and critical environmental and natural resources under stress, an Artists for Conservation event in South Florida aims to bolster the region's commitment to both art and environment.
It is truly art with a purpose, art for a cause. To support the campaign for Artists for Conservation - Fort Lauderdale at Power2Give.
Watch the campaign video.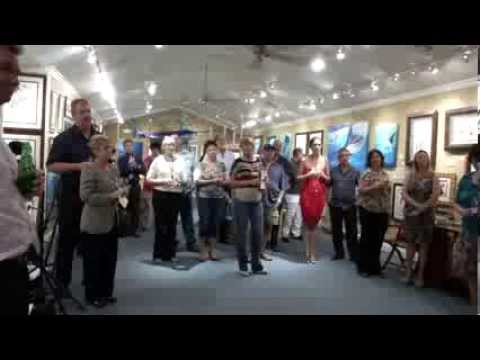 Special thanks for the generous support and assistance from to the following sponsors:
For more information about our supporters, please visit their websites:
The Westin Beach Resort & Spa Fort Lauderdale
About Artists for Conservation

Based in Vancouver, Canada, Artists for Conservation is a global society of more than 500 artists, both established names and up and coming artists. AFC's annual, marquee event - which takes place each fall - is the world's top conservation-themed art experience, featuring all original artwork by painters, sculptors and illustrators. Together with the art, conservation-focused ¬films, publications and informative presentations, the exhibit serves as a visually stunning and effective vehicle for conveying the importance of fostering creativity in art and protecting our wildlife and precious landscapes.